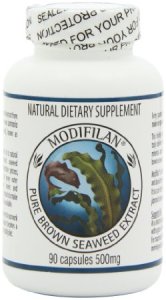 When I first started working with concentrated kelp extract in 2003, it was known as Modifilan®, and distributed in the United States by Pacific Standard Distributors Inc. Around 2010 I discovered a Russian man (Evgeny Mandrakov, CEO of Pacific BioTechnoloqies Inc.) claiming his company to be the originator of this product and that Modifilan® was no longer the same product due to their contract with the US distributor terminating in January 2007. The US distributor owned the MODIFILAN® trademark, so the Russian originators were forced to re-brand with a new name. That's when Biofilam® came to be.
As I'd had a business relationship with Pacific Standard Distributors for quite a number of years I asked one of their key staff (who I'd previously had numerous conversations and dealings with) about these claims from the Biofilam® manufacturers. His short reply did not leave me feeling confident he was telling the truth. His reply, in full, was:
that is our former contractor from russia with his view on how to market by means of steal and libel.
his product (as some other infringements, found in the internet, originating from former soviet union or eastern europe) has nothing to do with Modifilan, which we manufacture here in the US – just ignore it
After considerable research into the matter, which included communicating directly with Sea Bio Resources Inc., I came to the conclusion the Biofilam® is the original product, and suspect the current Modifilan product is different. It may be similar, but I don't believe it's the original patented product developed in Russia in response to the needs of people affected by radiation from Chernobyl.
I am not the only one who has looked into this and come to this same conclusion. Here are two reviews under Modifilan® on Amazon.com expressing similar concerns, research, and conclusions:
61 of 75 people found the following review helpful

Not the Original Modifilan

, April 9, 2012

This review is from:

Modifilan Pure Brown Seaweed Extract, 500mg – 90 Capsules (Health and Beauty)

The original "Modifilan" under this name ended in 2007. The patents For the original Modifilan is under a new name as "Biofilam" by Sea Bio Resources. I have researched into the legal matter and have come to the conclusion that the Modifilan being sold under this name is NOT true modifilan but instead, a knock-off and possibly illegal. The Modiflan website reviews appear to be based in the early 2000's by users and hold water at the time of reviews made. The product under the name "Modifilan" has since changed with cheap seaweed. The reviews before 2007 reflect the newer Biofilam product. Buyer beware.BIOFILAM IS THE GENUINE "MODIFLAN" CURRENTLY.I encourage everyone to look into this matter themselves.
I do not work for Sea Bio Resource or an affiliate, however, am a concerned consumer that believes in quality.
And another
46 of 51 people found the following review helpful

I tried this. Biofilam works better.

, June 11, 2012

This review is from:

Modifilan Pure Brown Seaweed Extract, 500mg – 90 Capsules (Health and Beauty)

I started using Modifilan after being impressed with the interview on Mike Adams' website. I used the product for 18 months, 6/day for the first year, and 3/day for 6 additional months. The only change I noticed was that the vertical ridges on my fingernails smoothed out somewhat. I did not notice an increase in metabolism or anything else I could point to, but just took the product on faith, mainly for broad-spectrum mineral support.Recently, thanks to another Modifilan reviewer, I discovered that the original Russian brown seaweed extract (developed to help Chernobyl victims) is now only available under the name Biofilam. So I switched. After just a month on Biofilam, I'm already noticing effects that I expected from Modifilan, but did not observe. Metabolism has picked up, and energy and endurance have improved along with sleep and bowel function. My skin also seems to be looking better, but I have to use it a bit longer to be sure about that. My experience with both products has convinced me that Biofilam is a far better choice. If you compare the information on the websites of the two products (Biofilam is found at Sea Bio Resources), you may decide to go with Biofilam as well. It is more expensive, but palpable effects are worth the extra cost.
Biofilam or Modifilan?
I switched to Biofilam® in 2012 and have had no reason to doubt the product. In light of the nuclear disaster at Fukushima (Japan) I also used an ionizing radiation detector to see if there was any detectable radiation emitting from Biofilam samples. I found none, although I continue to repeat the test each time I receive a batch myself.
If for some reason you decide you'd rather order Modifilan® in bulk 1KG amounts, I would be happy to supply it to you. Just send me an email so we can arrange it. Otherwise, my personal recommendation is to use Biofilam®.
Video from Evgeny Mandrakov
Here is a video of the creator of Biofilam (and the original Modifilan) explaining the situation: